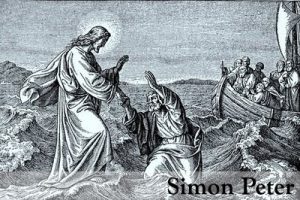 Peter, Jesus, & YOU!
A Bible exploration in search of Peter….
SORRY: THIS PROGRAM HAS CONCLUDED.
Please contact us if you are interested in hosting this series!
The Apostle Peter is a person much like us—only more so!
Peter—
Preeminent Apostle — the (little) Rock — the Denier of Jesus, big time — bold yet humble Spokesman
Peter puts into word and deed what many of us would just think.
Peter is 'everyman' — so as we discover Peter in the Bible we'll also learn more about ourselves.
Peter's best friend is Jesus. So we'll learn more about Jesus, too.
DISCLAIMER: 
THIS EVENT IS NOT IN ANY WAY AFFILIATED WITH OR 
SPONSORED BY THE CEDAR PARK PUBLIC LIBRARY.