WELCOME!
Come Alive Ministries' passion is to change people's lives. Your life.
Know this: TODAY is always YOUR day—to Come Alive!
Sure, the world is filled with fear, uncertainty, stress and anxiety—but you don't have to be. JESUS is the answer to how you can get free from these and other weights.
If you desire freedom, we invite you to come and receive. We want to help you really LIVE in Christ Jesus!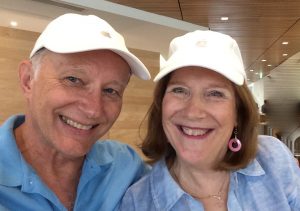 MARY AND HANK NIEWOLA – founders
Please browse our site and learn about our current activities, and learn more about Jesus Christ Savior of the world.
Thank you for visiting,
Hank and Mary Niewola
BEING IN TOUCH
• Hank's Place – a video BLOG of seismic proportions
• A Come Alive CAFE – experience it soon
• Listen to a Podcast
• Sign up for an eNewsletter
• On Twitter: Come Alive Today – let's tweet
• On Facebook – visitors always welcome
UPCOMING EVENTS — September
• Cedar Park, TX – Peter, Jesus, and YOU – weekly Cedar Park Library
• Cedar Park, TX – LifeBridge Job Corps Bible exploration – weekly
• Cedar Park, TX – Hank's Place video blogs – bi-weekly
• Cedar Park, TX – local outreach: all about J E S U S – constantly
WHAT OTHERS

ARE SAYING

[Mary E S] "What you say, and especially the tone of your voice [on Hank's Place] as it's reassuring me that 'I am the righteous of God in Christ.' My personality needs to hear uncluttered, straight talk right from the Bible. Hank's Place gives it!"

— And —

[David M] "It occurs to me that I don't know anyone who glorifies God with their joy and faith as much as you two – not even close.

And what's our mission? To glorify God and believe on the One He has sent! Mission accomplished!"

More testimonies here!